Events Group Rules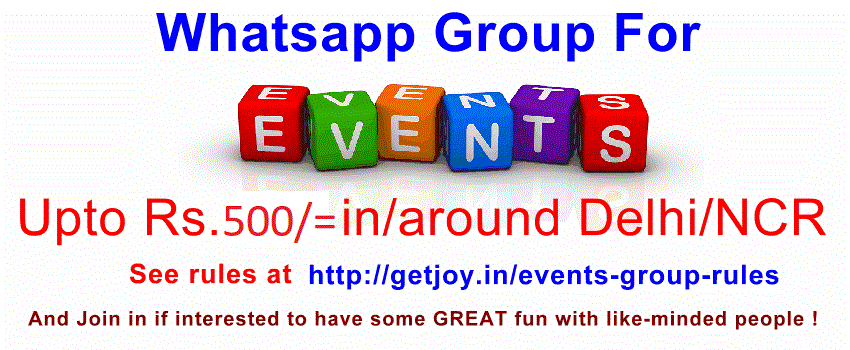 Events Group Rules
While most of this is common sense, it is still being put here for reference and updation as required.
1) The Events group is ONLY for sharing information on events for which you seek like minded company because you believe is is MORE fun going to such events with like-minded people you are comfortable with.
2) As of now, the events category is restricted to those costing upto Rs. 500/each to attend and in/around Delhi / NCR. The lesser the cost, the better !
3) NO other post on the group please. That means, NO jokes, NO updeshs, NO forwards. Nothing but what is relevant to the Group- to repeat – information on events of above category and inviting / finding people to go to same together. Period.
4) You/I/anyone else could incur some common costs. Like sharing a ride , or a cup of coffee.  If I agree to those, I will certainly share the costs and if in any doubt, ask the person inviting me in about the same before joining in. All members may expect likewise from other members.
5) It is also expected from any member inviting any other to an activity where (s)he expects the other to share the cost to be totally frank without hesitation and tell the other member beforehand at least the approximate cost, if possible. If in any doubt, all should/must ask the person inviting them in.
6) It is NOT at all required for any to join in any such common cost bearing activities if and when they happen. Of course they will not share the costs either.
7) Anyone doing some expenses totally voluntarily – for eg. bringing a bag of peanuts to share – does so at his/her choice.
8) ALL other matters – dealings and conversations with other members not relevant to the Group's purpose are totally amongst themselves and NO other member -including myself – take any responsibility for that. In case of any extreme incidents ( I hope not ! ) the concerned member will be removed from the Group.
9) All are welcome to invite others in. After sometime however, once we have some active members, this will become a closed group till necessary.
10) Final note : All who join in should firmly believe in #1 above. That means, DO contribute to its growth by pointing out events within the group's boundaries you feel could be fun. All are most welcome to put them on the group, or send me a direct message when I will do my best to put them there as well as here ( generally I will put the details here at https://getjoy.in/events ). At the same time, please appreciate that this is a voluntary, non-commercial activity for all, including me !
PS : All who are seeing this, are interested and are not yet on the Group, you can join by any means hereunder :
a) Directly from your Mobile Phone with Whatsapp installed, by going to :
Above redirects to Whatsapp Invitation Link for the Events Group. Please note I will call you to have a preliminary chat and get acquainted.
b) If you are in my FB/LI network, send me a Personal Message with your Whatsapp Number from there.
c) Via the form hereunder stating you want to be put on to the Events group.
Please DO also provide in the form hereunder a  link to your Face Book or LinkedIn profile (REQUIRED ) and your location (REQUIRED).
Well, that is all for the moment. Have FUN !
NOTE : If for any reason you have problems filing the form ( happens sometimes, I don't know why 🙂 ) you can just go to our Facebook Page at :
https://www.facebook.com/getjoyhere
and message me from there .
[Form id="10″]