Nanak Builders- builder of my house
Nanak Builders, Greater Noida – my house built by them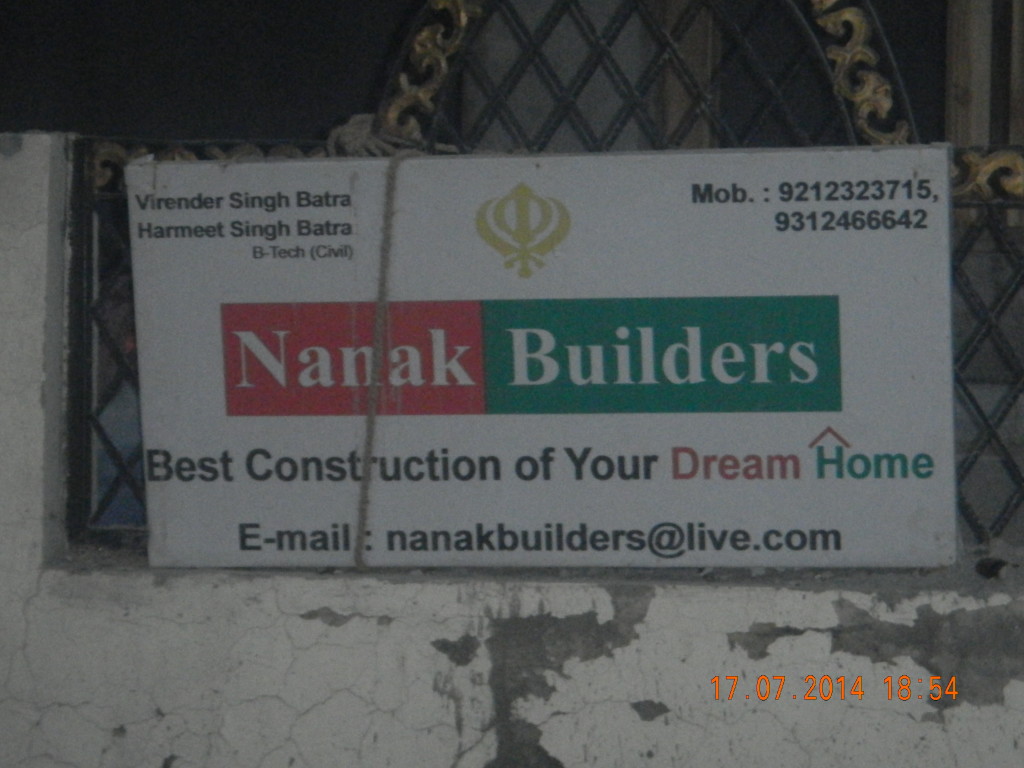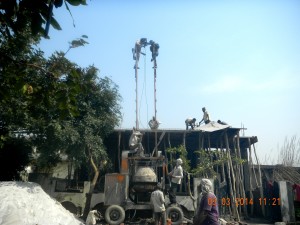 Nanak Builders has recently ( Oct. 2014) built my house in Greater Noida.
Indeed building a House can be a lifetime experience and a joy…and most of us will get or have built a house only once in our lifetime. So, most of us " lay people " when we start building our dream house are totally " fresh  and ignorant. There are pitfalls galore as you embark on this journey. some of which can be avoided if you have the benefit of someone's experience. I  will be putting down mine here, both for my lesson and learning as well as for any who chances by !
Of course if you are an Contractor, Engineer, Builder or an Architect yourself you will already know much of what comes here. And you could also be lucky to have access to some such people you can trust and put the site under their " supervision ". How much difference will it make only time will tell. I did NOT have any such help, except only very occasionally.
Meanwhile, see hereunder for some construction snaps :
And if you want to share in your experience and thoughts, comment in !
You can find more about the Builder via :
http://www.indiamart.com/nanak-builders/
http://yellowpages.sulekha.com/noida/nanak-builders-greater-noida-noida-3020456_contact-address
They claim to be one of the reputed builders in GNOIDA Area.
This is how my " dream " house developed ( partial, will be filled up as we go along .. ) :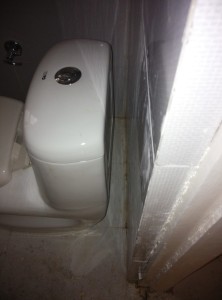 Update on 5th Nov. 2014 : Re the WC issue hereunder, the WC REsupplied by the Supplier was received WRONG. Instead of being 12 " Center, it had at 10″ !! But the Supplier insisted that is the one suitable for 12 " Center . Finally both myself and M/s Nanak Builders Greater Noida let go of this – so we are now left with an about 1.5 % gap between the WC and the Wall, till we get the right WC sometimes in the " future " !!
3rd Nov. 2014 : This snap shows what happens when you have a plumber, supplier and supervisor all not bothered about what is happening.
The WC comes with a Dimension from its back edge to the center of its discharge hole ( google on "Rough In Dimension "  of a Toilet WC to know more .. ). Normally, the standards are 4″, 9″ and 12″. The Plumber of Nanak Builders Greater Noida happily built the WC discharge pipes whichever way it suited him, finally gave us some dimensions and the WCs were purchased accordingly by me. As you can see, the WC is not flush with the wall, as it should be, since he laid the discharge at about 14 " from the wall and told us to get a WC 12″ ( being the ONLY standard size available in that range).
Consequence is clear in the photo.  Upon my strong objection, Nanak Builders Greater Noida surely told the plumber to redo the work ( Appreciated  ! ). So, the  Pipes were relaid ( risking the already laid bathroom tiles in the process… ) , WC returned and new ones obtained. Due Diwali, delay in this whole process exceeded FIFTEEN days , and as of date is YET unfinished !!!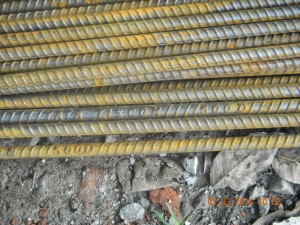 The "Saria"  : The Rebar used in the Construction of course is one of the critical components of the building and imparts the structure its strength. No brand was specified by Nanak Builders Greater Noida initially and so I was pleasantly surprised to see them using Tata Tiscon Brand which, per some, is one of the best .  Cheaper ones like Rathi etc are also available in the market. Also, I had heard stories of how people used leftover steel of other buildings etc. But thankfully, did not observe that in ours.
AGREEMENT : Mostly people make agreements regarding scope of project, some of which can be quite comprehensive and elaborate. On the other hand, some make do with just some quotations. What I found was as under :
a) The Builder is OK with the Agreement, inline with their offer. However, besides the major points NONE of the issues which will crop up during construction – method, quality, finish, workmanship etc. can be put down in their minute details. And even if you put some, do you have the competence to monitor it ? For eg. Nanak Builders says " material testing allowed" . But who tests it and will those tests be valid and hold when construction is going on ? Who will adjudicate on the disputes ? And how does one enforce it ?
b) A close relative – also a builder – on the other hand said agreements are irrelevant. If you are comfortable with the Builder and started trusting him that is sufficient. Since in any case you will not be able to monitor all this.
Finally, I went with a rough estimate provided by the Builder. This was also due the fact that M/s Nanak Builders did not seem hesitant to sign an agreement and construction proceeded at a good pace at least initially ( till roof casting stage ).
At the same time I do know of agreements with clear clauses – penalties for late completion for example – which the Builder has honored. Since our project was delayed by more than FOUR months, this is one point I feel could have been covered better. Well, anyway, that is what experience is for !
2012-2014 :  we found Nanak Builders advertised on the Web and met Mr. Virender Batra the proprietor somewhere in 2012. He seemed like a very nice person and also gave us some references. Anyhow we dropped the idea at the time but since then Mr. Virender Batra of Nanak Builders was in touch with me off and on – Gurpurab greetings etc.  so closer to the actual time I contacted him again in Feb. 2014.
TIME : Of course is important. Since planning of many other things depends upon that. The contractor may, in the beginning give you an estimate you are happy with. What finally happens may be much different. In our case Nanak Builders told the project will take 4-5 months. This was without any prodding on our side. It's has finally taken EIGHT months ! In between the builders' stance shifted to various excuses. And, to be fair, some others quite clearly told us a two story building would " normally " take 7-8 months.