Where to get tasty food in Delhi

Ahhhh tasty food in Delhi !
There is no sincerer love than love of food – so said George Bernard Shaw . So who are we lesser mortals to disagree !
Somebody sent me a list of dishes to try in Delhi. Here they are .
Have already tried some, will take in more and keep on updating here !
63 Dishes to try in Delhi
1. Chole bhature at Om bhature wala ( Om Corner), karol bagh
18th August 2017 : Get down at KB metro station, market side. About 1.7  KMs from there. You can take a Rickshaw- we found one who knew where the place was, so must be getting lots of passengers ! Cost Rs. 30/=. Chole Bhature cost Rs. 60 for plate of two. Nice. My friend Naresh Gandhi agreed….
Foodie sites like Zomato also rate it good. Here is the Maplink :
And some snaps..small , standing up place , no AC so better when weather is pleasant ! If you have been there, comment in !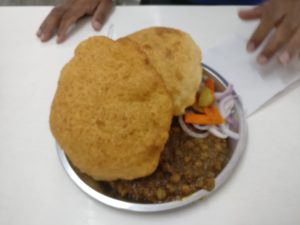 2. Fish Fry at Ganesh, Karol Bagh ( Gurudwara Chowk)
About a kilometer from Karolbagh Metro Station
Maplink :
3. Steam Chicken/Fish at Fiery Grills ( D mall, Pitampura)
4. Aloo Tikki at Natraj Cafe, Chandni Chowk
June 2015 : Was first introduced to this shop almost 12 years ago . Go here now whenever I visit Sheesh Ganj. Get down at Chandni Chowk Metro Station and walk towards Sheesh Ganj Gurdwara- if you miss the shop , just ask someone !
I prefer the Dahi Bhalla here more than the Aloo Tkii. And  he has consistently maintained the same taste ( and quantity )since I have been visiting ( although price has shot up from Rs. 15 to Rs. 50 per plate ! ). Very Nice Curd, tangychatni and bhalla.
Next time will focus more on the Aloo tkki 🙂
A snap from the Web :
5. Papri Chaat outside UPSC Building, Shahjahan Road
Last I was there was cicra 2002 – did not find it too good – well , will give it another shot…
6. Kakori Kebabs at Aap Ki Khatir, Khan Market
7. Cream Chicken Kebabs at Salim's, Khan Market
8. Chicken Tikka Rolls at Khan Chacha, Khan Market
9. Chicken Changezi at Chicken Planet, Tyre Market, Near Filmistan
10.. Punjabi Paranthe at Jurasik Park ( Murthal,Sonepat)
11. Chhole Bhature at Odeon Sweets, Bhagat Singh Marg, Gole Market
12. Mutton Dish at Ashok Meat Dhaba, Shop No. 42, Subhash Chowk, Sadar Bazar
13. CP Chicken Pepper Steak at United Coffee House, E- Block, Inner Circle
14. Dal Meat at Embassy, D- Block, Inner Circle
15. Tomato Fish at Kwality, Regal Building
16. Kachori aloo Sabzi at Nagpal's, Amar Colony, lajpat nagar
17. Set Dosa at Sagar, Defence Colony Market
Been there. Not a regular visitor though. Don't remember anything exceptional for this….
18. Bombay Duck at Swagath, Defence Colony Market
19. Rice with Gunpowder & Ghee, Andhra Bhawan
Been to Andhra Bhawan a few times. Value for Money meals ( although now a veg thali costs Rs. 150/= if I remember correctly …) But I do find it rather crowded at most times.South Indians must be liking it,  but me not a South Indian so can't say much, except that it is well known and you can eat as much as you like ( except some items which are "limited' – particularity if you buy them separately – the non veg ones..
This is how the place generally looks :
20. Bisi Bele Bhath, Karnataka Food Centre, Karnataka Sangha, Rao Tula Ram Marg
21. Chicken Pakodas at Moti Mahal Delux, Greater Kailash- I, M- Block Market
22. Butter Chicken at Havemore, Pandara Road Market
Been here quite awhile ago ..Have to go again to taste the latest !
23. Kashmiri Kebabs at Gulati, Pandara Road Market
Been here quite awhile ago ..Have to go again to taste the latest !
24. Dab Chingri at Fire, The Park, CP
25. Gushtaba at Chor Bizarre, Hotel Broadway, Asaf Ali Road
26. Chicken Haldighati at Colonel's Kebabs, Defence Colony Market
27. Mutton Stew at Karim's, Jama Masjid
28. Veggie Cutlets at Coffee Home, Baba Kharak Singh Marg
Been here quite awhile ago ..Have to go again to taste the latest !
29. Pakistani Biryani at DeeZ Biryani Kababs
30. Mutton Mince at St Stephen's, Delhi University
31. Kosha Mansho at Oh Calcutta, Nehru Place
32. Mutton Barra at Bukhara, ITC Maurya, Diplomatic Enclave
Visited here about July 2013 – Quite good, although expensive  ( about 2,500, if I remember correctly ) . And  NO cutlery – use your hands , people !
Bukhara food is excellent – whatever you have. But for people like me it can only be VERY occasionally :-(( unless, of course, someone treats :-))
Their Dal Bukhara( Rs. 700 odd) is perhaps, better value !
33. Pizzas at Flavors, Under Moolchand Flyover
34. Khao Suey at The Kitchen, Khan Market
35. Patrani Mekong Basa, Indian Accent ( The Manor, Friends Colony West)
36. Black Cod with Miso at 360 Degrees, The Oberoi
37. Stalin's Beard at Nanking, Vasant Kunj ( opp. DPS Vasant Kunj)
38. Peking Duck at China Kitchen, Hyatt Regency
39. Hunanese Braised Prawns at The Chinese, Middle Circle, CP
40. Green Tea Noodles at The Monk, Galaxy Hotel, Sec. 15, Gurgaon
41. Dim Sum at Tea House of the August Moon, Taj Palace
42. Kadha Prasad at Gurudwara Bangla Sahib
A visit here is always nice – I could be biased, however ! Besides the Kadha Prasad, one can also try the simple Langar – in an Air Conditioned hall now. You will most probably have to wait a bit though, cover your head and respectfully sit cross legged on the floor ( although some side seats are there … ) and don't expect a lot of items cooked like Hotel food – just some, cooked like home but with a lot of love for God ! This is how teh Langar Hall looks  :
43. Badam Halwa at Saravana Bhawan, Janpath, CP
Been here, Nice !
44. Kancha Golla at Annapurna Mishtanna Bhandar, Chandni Chowk
45. Saffron Lassi at Kaleva, Bangla Sahib Road, Gole Market
Kaleva is by itself quite nice. Have had Chole Bhature and Lassi here several times and also Dahi bhalla.
Must go again
46. Chocolate Pudding at Angels in My Kitchen, Defence Colony
47. Jalebis at Old & Famous Jalebiwala, Dariba, Chandni Chowk
48. Karachi Halwa at Chaina Ram, Next to Fatehpuri Masjid
49. Hot Butter Scotch at Nirula's
50. Neembu Soda and Pan at Prince Pan, Greater Kailash- I, M- Block Market
51. Chocolate pan CP, opp PVR
52. Peeli Dal at Shakahari, Chawri Bazar
53. Special butter chicken at Minar, M block market. Greater Kailash-1
54. Dal Bukhara at Hotel Ashok
55. Mutton Rista at, Ahdu's , masjid moth, south Delhi
56. Tom uncles Maggie at Delhi University, north campus.
57. Ice pan, Outside Plaza cinema, CP
Have not been here but am told this is quite good. Will try !
58, Bitoo Mutton Chap taka kak, outside KFC, Central market, lajpat Nagar.
59. Special aloo Paratha at Sona Sweets, Nehru place.
Have had this a few times. Ummm.. can be quite heavy ( and butterrry !) for some !
BUT, I like their Lassi ( Gokul Lassi  ) – it is so thick you can almost eat it, with a  dollop of Rabri on the top ! I remember it was at Rs. 15/= when I first had it ( about 1994 , I think ) .. and now costs Rs. 75 !!
60. Tandoori soya chap at Beliram Degchiwala at Lajpat nagar 2
61. Amritsari kulcha- paschim Vihar
62. Bittoo tikki wala at ranibagh and nsp
Bitto Tikki Wala also has an outlet walking distance from my place in Jasola. Quite good Tikki, Dahi Bhalla. My favorite though is Raj Kachori ( about Rs. 80 in June 2015, if I remember correctly ) which is a mini meal, generally, for me.
63. Bharat nagar's famous bhalle papdi
Hmmmm… quite many untried as of now -could be out of my Wallet's reach too !  But one can hope,can one not !
If you know any not in the list above , put in the comments below and will put them on my list too !